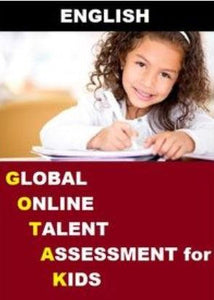 CLASS 3 GOTAK ENGLISH - AUGUST
Rs. 120.00

Rs. 120.00

Save

Rs. 60.00
---
---
Class 3, Global Online Talent Assessment for Kids (GOTAK) - English is designed by Olympiadtester to help you benchmark your child's grammar, comprehension and vocabulary skills against her / his global peers without putting any pressure.
Parents across 13 countries trust our assessments for their kids in Science, Mathematics, English, logical Reasoning, Cyber and General knowledge.

GOTAK is more of a self assessment tool rather than a contest. A unique and highly engaging structure will ensure that your child will have great fun during the process.
The child will take the online assessment from the comforts of home on any day within the month (It opens at 10.00 a.m. on the first day and closes at 10.00 p.m. on the last day of the month). However, only 1 attempt is allowed within this period.
ACCESS
Pay the registration fees
Go to MY ACCOUNT and click on "My tests/Worksheets". 
Click on "Take Test" of this assessment. 
You will be taken to the page from where you can take the assessment. 
STRUCTURE AND SYLLABUS
No of questions - 35. Time allowed - 60 minutes
Syllabus - 

Word Power : Homophones, Collocations, Spellings, Words related to animals, Household things, Clothes, Basic emotions, Food, Animals and Pets, etc. Synonyms and Antonyms, Gender, Number, Proverbs, Idioms, One Word, Nouns, Pronouns, Verbs, Adverbs, Adjectives, Articles, Prepositions, Simple Tenses, Conjunctions and Punctuation, Basic Questions, Question tags, Jumbled words, etc. Search for and retrieve information from various text types like Stories, Anecdotes, etc. Understand information through pictures, Time-table format, etc., Acquire broad understanding of and look for specific information in short texts like messages, Invitations, etc.
 SAMPLE ASSESSMENT
You will have access to a previous GOTAK ENGLISH assessment to practice and get an idea. 
AFTER GOTAK 
On the 15th of next month, the following be shared:
Global scoring pattern - Overall 
Global scoring pattern - Question-wise 
Average time taken - Overall 
Average time taken - Question - wise 
Top performers ( Name of student, Name of School, Country, State, City)