Global Vocabulary Challenge - GVC
Posted by Olympiad Tester on
---
About GVC
Global Vocabulary Challenge (GVC) is designed by Aster Public School, Noida Extension and Olympiadtester to benchmark your child's English vocabulary with her/his global peers without putting any pressure.
GVC is more of a self assessment tool rather than a contest. A unique and highly engaging structure will ensure that your child will have great fun during the process.
GVC Links 

To attempt this unique contest, choose your class below:
Why GVC?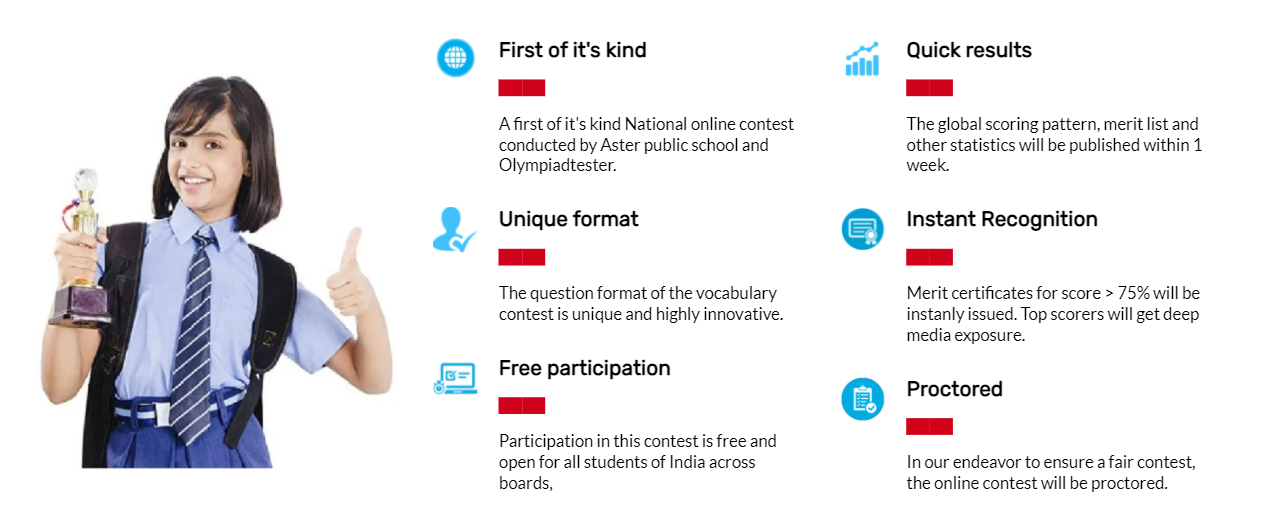 Eligibility:
Any child from any country between Grade 1 to Grade 10 can register for this assessment.
Mode of Assessment: 
The child will take the online contest from the comforts of home. 
Sections:
Section 1 - MCQ
Section 2 - Cloze
Section 3 - Crossword
Section 4 - Column matching
Section 5 - Word scramble
Section 6 - Word search
No of questions and time allowed:
Class 1 - 4 - 35 questions, 90 minutes
Class 5 - 10 - 50 questions, 90 minutes
After GVC:
Benchmark your performance with peers with the help of global scoring pattern, hall of fame, question-wise analysis and other statistics. 
---